By Roger Lohr
In a story posted by TSIL, the Northeast Winter Weather Summit, organized by the North American Snowsports Journalist Association (NASJA) with support from 19 other companies and organizations, saw meteorologists, ski resorts and media gather at Stratton Mountain, VT, Dec. 2-3 for the first of what many hope will be a continuing conversation between the various groups to provide information on making the best of winter.
Pictured above left: Keynote speakers Ian Bailey and Adam Gil (Mount Washington Observatory) share a glimpse into severe weather conditions atop Mount Washington.
The meeting brought together some groups and topics that don't normally occur at industry meetings and some lively discussions ensued. There were 70 people registered; roughly half of them meteorologists/media. New York, Massachusetts, Vermont, Maine, New Hampshire, Quebec, and Pennsylvania ski areas were among the states represented. The Weather Summit was supported by Mountain Travel Symposium, MountainGuard, Prinoth, HKD Snowmakers, BEWI Sports, Dion Snowshoes, and VFC (The North Face). The attending meteorologists were from Boston, Mt. Washington Observatory, Hartford, Albany, Altoona (PA), Skywatch, and WeatherNation to name a few.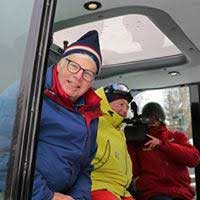 On Sunday Dec. 2, the opening seminar about "How To Dress for Winter Weather" by The North Face corporate rep Stan Kosmider was a big hit, with multiple questions from the audience about smart layering and technological advancements in snow sports apparel. Next, the Welcome Reception started with short introductions from NASJA President Iseult Devlin and welcome remarks from Stratton President Bill Nupp. The keynote presentation featured observers from the Mt. Washington Observatory, who gave a vivid picture of life on top of Mt. Washington, which claims the worst weather on earth (i.e., 231 MPH winds!). Did you know you can use a frozen banana as a hammer?
Eight lucky attendees joined Tim O'Neil, founder of the Team O'Neil Rally School at a Sun Bowl parking lot for some tips on driving in winter. O'Neil stated that his favorite position for driving was sideways, and demonstrated with some hot laps around the icy, slushy parking lot. Then participants got their turn, although not at quite the same velocity. On another part of the mountain, Vermont Lt. Governor David Zuckerman made an appearance to demo Vermont manufactured Dion Snowshoes and take a ride in the Prinoth snowcat. Zuckerman also addressed the group at lunch thanking them for coming to enjoy the incredible opportunities Vermont has to offer. He invited meteorologists to "be educators on how to tell people to dress for winter."