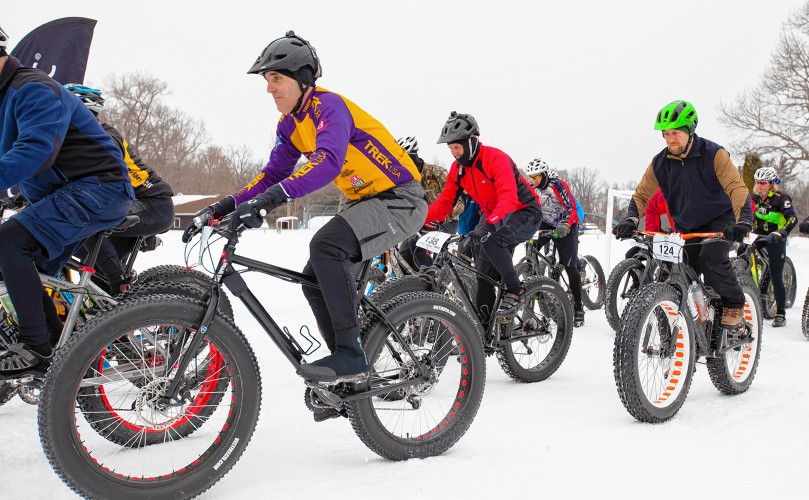 by Marty Basch, The Concord Monitor, January 28, 2017
With monster tires, they roll along on snow, dressed in layers looking like a child born to a cross- country skier and snowmobiler union.
Fittingly, that's where you tend to see these hardy two-wheeling riders, spinning along the groomed trails of Nordic touring centers and pathways maintained by local snowmobile clubs.
On fat bikes, they frequent a snowy landscape largely unseen by a vast majority of the cycling world in winter.
They look like mountain bikes, but with those huge, low-pressure tires generally 3 inches wide or more, people may stop to watch them pedal by, often inducing smiles or skeptical head- shaking.
"You just look at one and start to chuckle," said Newmarket's Arlon Chaffee, the head of event- producing Loco Cycling. "It has fun in its DNA. People like to be noticed and what gets you noticed is riding around on a balloon-tired bike during the winter."
Those rolling fatties are being embraced by many members of the cycling community.
According to Chaffee, there are cycling enthusiasts who ride fat bikes as a way to extend the season while the off-beat bikes also attract many who are relatively new to cycling and like the idea of cycling through all of the four seasons on groomed trails. More manufacturers are offering more types of fat bikes.
It's one of those investments where you can pick up a barebones rig for about $1,000, augment it with cold weather clothing and roll it out the front door. It can be competitive; it can be social.
Several ski areas have embraced fat biking as something of a weather-proof activity against those winters when snowfall doesn't reach its potential. The areas can rent bikes and charge for a trail pass.
Fat biking is welcomed on the Nordic side of New Hampshire ski areas including Waterville Valley, Gunstock, Bretton Woods, Great Glen Trails, Mount Washington Valley Ski Touring and in Vermont at places like Mountain Meadows near Killington, Jay Peak, Okemo, Woodstock Inn, Kingdom Trails and Stratton. Bretton Woods is offering fat biking for the first time.