The Carson White Snowsports Achievement Award goes to an individual or individuals who have made a significant contribution to the advancement of snowsports in North America, either achieved with a single defining accomplishment or through a lifetime of snowsports endeavors. The winner will be selected by online vote of Active Press, Retired Press and Corporate members.
There is a link to the ballot at the bottom of this e-mail.
The three nominees are:
Billy Kidd
Glen Plake
Barabara Alley Simon


---

BILLY KIDD

William Winston "Billy" Kidd, a descendant of the famous English pirate, terrorized the slopes of his native Stowe, Vermont, honing his skiing skills on Mt. Mansfield before becoming an American hero at the age of 20. Clad in a Peter Fonda-Easy Rider motif and on his wooden Kastle 207's, he became the first American male to win an Olympics skiing medal, capturing a Silver in the Slalom at Innsbruck, Austria in 1964, sharing the podium with his friend and teammate Jimmy Heuga, who got the Bronze. He continued with his ski racing career, winning two firsts in the newly-formed Alpine World Cup, skiing in between numerous injuries and fitting in an economics degree at the University of Colorado -Boulder in the downtimes. Billy put it all together in 1970, promising his mother and winning a gold medal in the Combined at the World Championships, quitting the World Cup circuit and in the same year winning the ISRA pro-circuit GS and Combined, the first person to win both the amateur and pro championships in the same year.
After his racing career, Billy took his trademark Stetson and headed for Steamboat Springs, Colorado and for the last 50 years, his focus has been to promote skiing, fitness, charitable work and as director of Steamboat Resort's ski school to spread goodwill, joy and his knowledge of the sport to countless admirers and fans. His accomplishments include contributing to and being a board member of Special Olympics and helping to bring the competition to Steamboat in 1977, co-authoring 2 books on skiing, contributing editor of Ski Magazine, helping to combat Multiple Sclerosis, which felled his late friend Jimmy Heuga, and hosts and teaches Native American kids to ski (he's part Abenaki). He was also inducted into the US Ski and Snowboard Hall of Fame, named one of the top 10 skiers of the century by SKI and named the Skier of the Century by the Denver Post.
But Billy is in his element at 1pm at the top of the gondola at Steamboat, hosting a free "ski with Billy Kidd" clinic, complete with ski tips, stories, helmet autographs and his unbridled enthusiasm for his lifelong sport.
---
GLEN PLAKE
Glen Plake, a self-described punk rocker from a gambling town (South Lake Tahoe), mogul skier (Heavenly's Gunbarrel is his "home") IS the epitome of Extreme Skiing. With his signature multi-hued Mohawk floating in the breeze he performed extraordinary feats of skiing prowess and inventive maneuvers in many classic Warren Miller and Greg Stump ski films. If you're lucky enough to have seen or skied with him in person, you were also entertained by his unbridled enthusiasm, humor, creativity and a big, engaging laugh.
Born in 1964, Glen started skiing at 2 years old, becoming an accomplished freestyle skier and moguls expert, good enough for the U.S. Ski Team. However he rejected that notion, instead opting for fast skiing, partying and cultivating a "bad-boy" persona. Co-existing realities, a run-in with drugs and the law and an offer from Greg Stump to ski in his new film, sent him scurrying to Chamonix and in one year, his star was cast. He came back to the U.S., paid his dues and some fines and was on his way. Meeting and marrying his wife Kimberly, a great athlete in her own right, the power ski-couple formulated their skiing philosophy that the ski experience, being in the mountains with friends, skiing for the joy of it, bettering yourself, is where it's at. Skiing is not how many runs you make, how deep the powder is or how expensive is the resort. They turned their attention to helping "mom and pop" ski areas survive. They began making unannounced, unplanned visits to obscure, small ski mountains on their Down Home Tours, offering free lessons, posters, stories and just jawing to the locals about positive ski culture and their mutual joy.  Ever evolving, Glen, who was asked to teach Today Show anchor and first-timer Hoda Kotb how to ski, realized he didn't know the first thing about teaching. So he started at the bottom with PSIA instructor hopefuls and with some hard work, ended at the top, from rebel to a Level 3 PSIA Examiner. Along the way, Glen was inducted into the U.S. Ski and Snowboard Hall of Fame,  had many international mountain experiences and spent a decade on his home mountain bending ears about his grassroots take on the wonders of the ski.
---
BARBARA ALLEY SIMON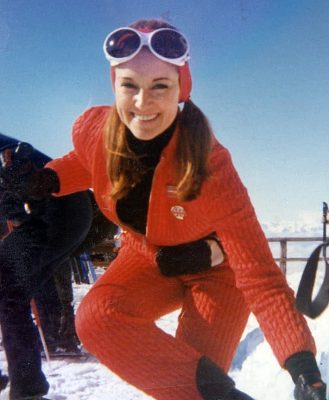 How did fashion promote and have a positive, lasting and important effect on the growth of the sport of skiing in North America and beyond? You can find out by asking Las Vegas resident Barbara Alley Simon. Barbara, a native of Burlington, Vermont, graduated from Women's College, now UNC Greensboro, in the mid-1950's and the Parsons School of Design in New York City. She learned to ski at Snow Valley in her home state and became a ski instructor at Hunter Mountain, New York.  In 1967, she met ski promoter Jerry Simon and was asked to manage his fashion booth at his ski shows, and more importantly, to be her husband. They later married on the top of Jackson Hole Ski Area. The fashion booth wasn't creating much of a buzz until they started a ski fashion show using real models and the latest creations. The shows became more popular and with Barbara narrating, they soon were on local TV and hit the big time with national appearances on the Merv Griffin Show, Today and Oprah. Barbara defended the shows and interest in them by pointing out that "seeing good-looking people in stretch pants played a big role in the advancement of skiing." Sexy was good and it led to more and more people taking an interest in the sport. Great-looking ski wear became more important as function and safety were added to the mix.
Barbara branched out from the ski shows to become fashion editor for Skiing Magazine and later Snow Country. She also found time to ski the world and climb the Matterhorn and Grand Teton with Jerry, pilot solo in airplanes and made numerous parachute jumps. She also made a hobby of gathering hundreds of examples of high-fashion and vintage ski clothing which are now on permanent display at the Alf Engen Museum in Park City, Utah.
Barbara also became the first recipient of the U.S. Ski and Snowboard Hall of Fame's Women in Industry Award honoring her 50-plus years of contributions to the sport.
---
VOTE HERE!


Voting Deadline March 21,  2021.