Yves Juneau, a native of Quebec City, discovered his passion for snowsports on a ski trip while in the 5th grade.  This passion and skiing experience, coupled with an interest in media relations lead him to Station Mont Tremblant in 1994.  In his 5 years at Tremblant, he played a key role in establishing the Mont Tremblant Village Association and assisted in the promotion and success of Intrawest's newly acquired resorts across Canada, Europe and the U.S.
Yves spent the next decade, from 1999 to 2009, as regional sales and marketing director for Mont-Sainte-Anne and the Stoneham ski resorts. He proved highly effective and was honored in 2005 with the Quebec Ski Areas Association's Young Manager Award. In 2006 SAM Magazine awarded him the SAMMY Future Leadership Award for his sense of innovative leadership.
Yves remains a passionate skier, something he and his wife have passed along to their now-adult children, Luka and Simone. In the fall of 2013, he became CEO of the Quebec Ski Areas Association where he promotes winter sports as a way of living. He oversees numerous development programs for new skiers and snowboarders to ensure a healthy industry for the future. He sits on the board of the Canadian Ski Council and the Quebec Human Resources in Tourism Council. The mark of a fine leader is adapting and yes, thriving in difficult times.
The Covid-19 crisis presented some serious challenges for the Winter sports industry and once again Yves was up to the task. He acted as liaison between the industry and senior government authorities to ensure that we could have a fun and safe ski season across the 75+ Quebec ski areas.  Yves has been an active member and supporter of NASJA since his early days at Tremblant.
JIM VICK-Marketing Director, Lutsen Mountains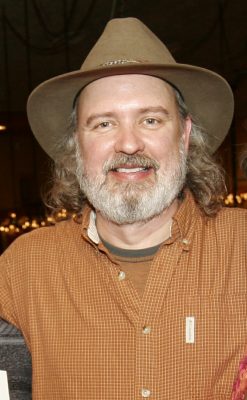 Born in Redwing, Minnesota and being a practicing Norwegian, Jim Vick learned to ski when he was 4 at Mt. Frontenac ski area, becamean instructor at 14, earned full PSIA certification and managed the same area in his early 20's, as he worked his way through college.  A brief one year post-grad career in city civilization ended when he realized he missed working at a ski area.  His wife Kari describes it as his "early midlife crisis," leaving a lucrative job, drawing on "the infinite wisdom of a 23-year-old married father of two young daughters," and heading north to Lutsen Mountains ski resort above Lake Superior to be their ski school director.
Thirty-six years later, as Marketing Director, Jim pursues his life mission of introducing as many people as he can to the sport of skiing and cajoling them to spend some time at arguably the premier ski mountain in the Midwest.    Jim is the face of the resort, reporting news and events in his laid-back manner to TV and print media all the way down to the Twin Cities. Ever mindful that a successful  PR and communications officer must constantly keep his audience tuned-in with fresh events and pastimes, he has cultivated one of the premier live music venues at a ski area on his "Papa Charlie's" stage ranging from the lively to the contemplative, with local, national and world acts.  Jim, a musician himself, started this music promo career running for student council promising "I'll book better bands."  This must have impressed his future wife Kari as they shared a cello stand in junior high orchestra practice.
Jim also spends a lot of his time promoting local tourism and wonders and beauty of northeastern Minnesota and getting in a few "quality control" runs on the trails. And he loves skiing with daughters Solveig, Lutsen's ski patrol director, and Kjersti, marketing director of Cook County, also his favorite racers when he coached the local Cook County High ski team.  It seems like his move 36 years ago has paid off.
EMILY SUMMERS- Senior Communications Manager, Deer Valley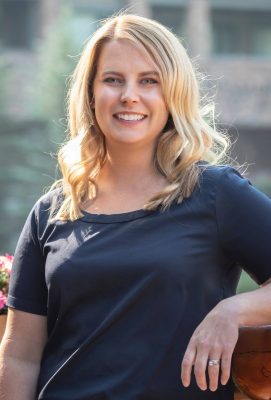 One of Grand Haven, Michigan's favorite native daughters has to be Emily Summers. After what was probably a fine childhood there, Emily later attended and graduated with honors with a BA from the College of Communication, Arts and Science at Michigan State University in East Lansing.  After a brief stint at a Michigan public communications firm, she headed west to Park City, Utah in 2006, settling in to Deer Valley Ski Resort's communications department.  In a few years she rose to the title of Communications Manager and then Senior Communications Manager in 2015, a title which she enjoys to the present day.  Her duties included acting as the resort spokesperson for both Deer Valley and until 2017, Solitude Mountain Resort in Big Cottonwood Canyon.
Now, she is responsible for writing and implementing the communications portion of Deer Valley's overall marketing plan, creating a budget, and maintaining relationships with media outlets. Early-on, Emily sensed the importance of an aggressive approach to expanding far-reaching communications efforts, especially social media and blogs. Her five-person blog team received "Best Resort Blog" honors in 2012 and Best Social Media Campaign" award in 2014 by the National Ski Areas Association. During her tenure and with her help, Deer Valley enjoyed high honors as Ski Magazine's #1 Overall best resort by their readers an amazing 8 times, including 5 times in a row, from 2008-2012, and in the top three for 20 straight years. The resort also touts their eight straight years as the Best U.S. Resort by World Ski Awards.
On a personal note, Emily and her husband Matt, who exchanged vows at the resort's Empire Canyon Lodge, welcomed their baby Lucy in September.  Emily still manages to sit on the board of the Summit County Library and for 10 years, she was the Corporate Liaison to NASJA.
VOTE HERE!


Voting Deadline March 10  2021.