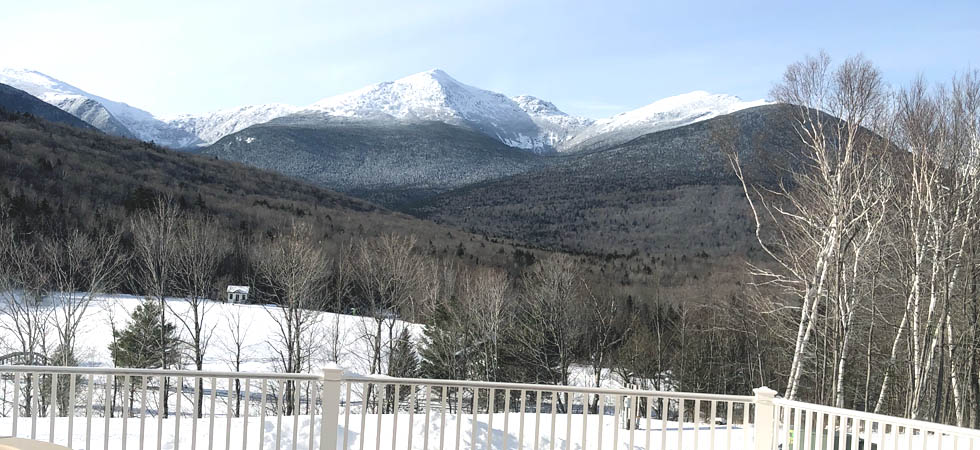 The White Mountain Summit program has been put together on February 28-March 3 with a reception at the New England Ski Museum on Thursday and the FREE participation in the Hannes Schneider activities during the weekend including a buffet and torchlight parade at Cranmore Mountain Resort.
On Friday, March 1, NASJA members have been invited to take the Mt. Washington SnowCoach (snowcat-like van) up to treeline on the mountain, outdoor activities at Great Glen Trails Outdoor Center followed by a luncheon at the newly opened Glen House Hotel and two short presentations.
The Hannes Schneider race is on Saturday. NASJA members participating in the White Mountain Summit have been invited to ski/snowboard or try some of the activities at Cranmore Mountain Resort such as the giant swing and the Mountain Coaster. The Mt. Washington Observatory Discovery Center will also be open FREE of charge in North Conway to NASJA members.
On Sunday, March 3, NASJA members have been invited to ski or snowboard at Bretton Woods Resort, where there will be an on-site discussion meeting at 11:00 AM about the changes on the mountain including construction of a gondola and mountain top restaurant.
There are 12 openings to NASJA members for a lodging package in North Conway for Thursday, February 28th through Saturday March 2nd, priced at $125 and there is a $99 commuter rate. Those interested in participating in the Hannes Schneider Meister Cup race and activities, it is complimentary to NASJA members.
At this time full registration is closed and NASJA is only taking registrations for commuters.
PRICES: Member = $125 includes 3 nights lodging and all activities. Commuter (all activities and no lodging) = $99.
Race and Hannes Schneider Meister Cup activities = complimentary – register with NE Ski Museum directly.
Click here to register online and pay. Questions should be directed to Roger Lohr at PO Box 2038, Lebanon NH 03766. E-mail rblohr@comcast.net
AGENDA
Thursday evening, February 28, 2019
6:30 PM Reception at the New England Ski Museum Eastern Slope Branch- 2628 White Mtn Highway, North Conway.
Race registration individually at www.Meistercup.org (need to register to enjoy the race activities)
Friday, March 1, 2019
Breakfast on your own
GREAT GLEN TRAILS OUTDOOR CENTER, (past Wildcat on Route 16)

9:00 AM Mt. Washington SnowCoach to treeline
11-12:30 Great Glen Trails Outdoor Center activities including XC skiing, snowshoeing, fatbiking, tubing OR guided ski tour with Sue Weymss, former US Olympian
12:30 PM – Luncheon at Great Glen House

Presentations by Howie Weymss, general manager about Glen House history and sustainability and Nate Harvey about XC skin skis and adjustable bindings equipment craze

Cranmore Mountain Resort, NORTH CONWAY evening

6:00 – 9:00 PM – Reception and buffet for Hannes Schneider Meister Cup at Cranmore Mountain Resort (register for race at that time) with torchlight parade at 8:00 PM.
Saturday, March 2, 2019
Cranmore Mountain Resort, NORTH CONWAY

8:00-9:00 AM Continental BF at Cranmore Mountain Resort for Hannes Schneider Race
9:00 – 3:00 PM Hannes Schneider Race and/or Cranmore activities – Adventure Park Activities including the Giant Swing, Mountain Coaster rides, tubing, and 700' Soaring Eagle Zip line
3:00 PM until closing – Cranmore Mountain Resort skiing/riding, Adventure Park, or Mt. Washington Observatory Discovery Center in North Conway  Free entry to NASJA members
Dinner on your own
Sunday, March 3, 2019
9:00 AM Breakfast on your own or continental BF with New England Ski Museum with talk by Jeremy Davis on the lost ski areas of the Berkshires at the Eastern Slope Inn.
BRETTON WOODS SKI RESORT

11:00 AM Bretton Woods Resort for skiing or snowboarding
Tour the on-mountain construction sites for the new gondola and restaurant with Bretton Woods staff.
---
---
Meeting Story Ideas:
White Mountain Attractions – Colleen Eliason
The White Mountains Attractions Association is a destination marketing organization with member businesses in the White Mountains and a visitor center in North Woodstock, producing the Travel Guide and Map & Guide, responds to tourist inquires and represents the association members at domestic and international travel expos. www.visitwhitemountains.com 800-346-3687 or email celiason@visitwhitemountains.com.
New England Ski Museum – Jeff Leich
The museum collects, conserves, and exhibits elements of ski history for research, education and inspiration. It has operated the museum at Franconia Notch State Park since 1982 and welcomes thousands of visitors annually. The new Eastern Slope Branch of the New England Ski Museum opened its in-town site in North Conway in 2018. www.newenglandskimuseum.org 603-823-7171 or jeff@skimuseum.org
Hannes Schneider Meister Cup – Jeff Leich
Hannes Schneider was an Austrian mountain soldier in World War I and his son Herbert Schneider was a member of the 10th Mountain Division in World War II. The Meister Cup pays tribute to American mountain soldiers with a special military class, in which active duty soldiers of the 10thMountain Division and the Army Mountain Warfare School usually participate. Apart from the ski race, the Hannes Schneider Meister Cup is run at the Cranmore Mountain Resorts and features a full slate of weekend social activities including a welcome reception and buffet, the opening ceremony, an ice carving contest, a silent auction with a variety of items for skiers, the popular wear-your-own vintage skiwear show, the awards ceremony, and a ski history presentation.
Mt. Washington SnowCoach – Nate Harvey
The SnowCoach (a snowcat-van) transports guests (weather permitting) to treeline (approximately 4,200 feet) on Mount Washington into a sub-arctic world for a truly unforgettable adventure. Operated by Great Glen Trails.603-466-2333 or nate@mt-washington.com
Great Glen Trails Outdoor Center
There are 45 kilometers of XC skiing, snowshoeing or fatbiking, an ol' fashioned tubing hill, and a 20,000 square foot base lodge featuring panoramic views to the Northern Presidentials. Sue Wemyss, an Olympian and former U.S. Ski Team member, with over 25 years of experience teaching and coaching skiers will offer a guided tour. 1 Mt. Washington Auto Road, Gorham NH (Route 16) www.greatglentrails.com 603-466-2333
Glen House Hotel opening – Crispin Battle (PR)
There are 45 kilometers of XC skiing, snowshoeing or fatbiking, an ol' fashioned tubing hill, and a 20,000 square foot base lodge featuring panoramic views to the Northern Presidentials. Sue Wemyss, an Olympian and former U.S. Ski Team member, with over 25 years of experience teaching and coaching skiers will offer a guided tour. 1 Mt. Washington Auto Road, Gorham NH (Route 16) www.greatglentrails.com 603-466-2333 crispin@mt-washington.com
Glen House Hotel opening (history and sustainability) – April Jacobs
Glen House Hotel built in classic New England vernacular, with clapboards, and painted trim is similar to the previous four Glen Houses that have stood on its site since 1852. The facility has succumbed to 4 fires and been rebuilt five times. It now has 68 rooms and extraordinary views out the large windows in the pub and lobby. The building has a geothermal system that provides heating and cooling and will have offsite energy-generating projects harnessing hydro and solar power. 979 NH 16, Gorham NH. www.theglenhouse.com 603-466-3420 or ajacobs@theglenhouse.com
Mt. Washington Observatory Discovery Center – Krissy Fraser (marketing)
The Mount Washington Observatory Weather Discovery Center is an interactive science museum that allows guests to explore the science of climate and weather through fun, interactive exhibits like the air cannon, flow tank and wind room. With hands-on exhibits and lessons for all levels of experience, the Weather Discovery Center is appropriate for all ages. Open 10:00 AM – 3:00 PM 2779 White Mountain Highway www.mountwashington.org 603-356-2137  or kfraser@mountwashington.org
Bretton Woods Ski Resort and construction projects – Craig Clemmer
62 trails and 35 glades, 9 lifts, 460+ acres. Visit the Stickney Cabin via the T-bar and Chutter's Candy store on top of the Zepher lift, zip line. New gondola and mountain top restaurant currently under construction to open for next year. Views of the Omni Mount Washington Resort and the majestic mountain. 99 Ski Area Road, Bretton Woods NH 603-278-3320 cclemmer@omnihotels.com