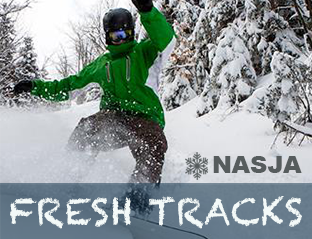 The NASJA Board has created an annual Fresh Tracks Award to recognize "fresh" snowsports communicators in an effort to grow the organization with new and relevant talent.
Since NASJA corporate members often deal with newer media journalists / communicators / influencers in the ski world, they are the ones who are best suited to be nominating for this award. Corporate members were sent a request in August to nominate a snowsports journalist for the new Fresh Tracks award.
Nominees can be anyone who has been a snowsports journalist for three or less years. The winning nominee gets $500 plus a free year of NASJA membership. The corporate member who nominates the winter gets $250 for making the effort!
So if you're a NASJA corporate member and know a snowsports journalist, send your nominees in now to awards@nasja.org.
Deadline Extended! Sept. 30
Who can you nominate? Anyone who has been a snowsports journalist for three or less years can be nominated. Any NASJA corporate member can nominate a candidate for the award.There is no limit to how many candidates a corporate member can nominate or how many candidates can be nominated in total.
What do nominees get? Each Fresh Track nominee will receive a complimentary one-year membership in NASJA. A panel of NASJA appointed judges will review the nomination pool and select a Fresh Track Award winner who will receive $500 and a trophy.
What do corporates get? The NASJA corporate member who nominates the winner will get $250. If more than one corporate member nominates the winner, then the first to nominate gets the $250.
How do I do it? The nominating process is simple. All you have to do is submit a name, contact info and a link to the nominee's work to awards@nasja.com